About Workshops & Panel Discussions
Workshop 1: Making the shorts that matter
27 October 2022,
Cinema 8, VOX Cinemas, Nakheel Mall,
The Palm
Leo Wong, Academy Award nominated Producer
&
Ivor Gracias, Award-winning short film producer
About the workshop leaders: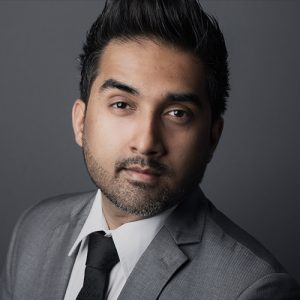 Ivor Gracias, Award-winning short film producer
Ivor is an award-winning short film producer who has produced more than 15 films. Many of his films he was involved with have won awards globally and also have been officially selected in film festivals worldwide. He is also a casting director and has casted actors in TVCs, Bollywood Feature films, Netflix, Disney Hotstar OTT platforms and music videos. He is also an actor and has acted in many TV commercials, short films. He acted alongside Shah Rukh Khan in the Be My Guest TVC, featured in the Etihad Airways Re-imagined TVC featuring Nicole Kidman to name a few. He loves working with people from different cultures and nationalities as he believes it gives more depth and meaning to whichever project he is involved in, and it is a learning process. He believes in a positive approach to all things. Teamwork is one important aspect of his success, and all accomplishments are obtained with a combined effort. His famous catch phrase is "Positivity is the key – Drizzle"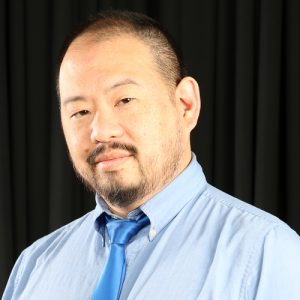 Leo Wong, Academy Award nominated Producer
Leo Wong is the creator of ActingintheUAE.com and is a Director, Actor, Writer, Editor, and Academy Award nominated Producer from Los Angeles. He has been working in the entertainment industry for two decades on well over 100 shows. He holds a Master's in fine arts degree from the world famous American Film Institute in Hollywood, where he attended on a scholarship awarded by Oscar winner Kim Basinger. He is currently the Lecturer in charge of Video Productions at the HCT Abu Dhabi Men's Campus.
Workshop 2: What is next after the fine cut?
28 October 2022,
Cinema 11, VOX Cinemas, Nakheel Mall,
The Palm
Effective ways of promoting and marketing your independent film
Long after the production wraps and copies of your film are about to get disseminated worldwide, a process that the director might not be interested in begins film promotion and marketing.
As a filmmaker, you need to see the project through to completion. In this workshop, Dr Sabir Haque walks you through the process of promoting and marketing your short film.
The workshop will cover the following:
Making Film promotional materials
Promoting your film

Finding an audience
Film Marketing Plan

Tips to promote your film
Industry Insights on the film promotion process
Dr. Sabir Haque, Assistant Professor, School of Arts and Science, American University of Ras Al Khaimah
About the workshop leaders: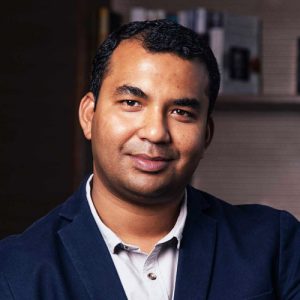 Dr. Sabir Haque, Assistant Professor, School of Arts and Science, American University of Ras Al Khaimah
Dr. Sabir Haque is a multi-faceted media professional with over 18 years of experience in academia, broadcast media & filmmaking.
He finished his Master's in Mass Communication from Mass Communication Research Center, Jamia Millia Islamia, New Delhi, in 2003. He completed his Ph.D. in Journalism & Social Media from the School of Communication, Manipal University India, in 2017.
His first Documentary film bagged the National Award for Environment & Wildlife Conservation, which was screened at various film festivals worldwide. He joined NDTV, a premiere TV News Channel in New Delhi, India, and later NDTV ARABIA in the UAE. He continues to direct Documentary films and has built up a strong industry profile creating films for Corporates and Govt. UAE agencies. His last production as a Script Writer and Director is a 15-episode Docu-drama titled 'Wajadt Nafsi' telecast on Dubai TV, Sama Dubai, and Dubai One during Ramadan 2022. The docu-drama was produced for the Government of Dubai.
He teaches Broadcast Media & New Media Technologies at the School of Arts and Sciences, American University of Ras Al Khaimah. He is a certified Avid Media Composer Instructor and creates online training material for Film Production, Graphic Design & Layout, Web Technologies & Social Media Advertising.
During this panel, some of the world's leading Directors, Producers, Actors and Actresses, and Distributors will discuss the critical elements of success in creating, marketing and distributing a movie.
Experts Panelists are:
Andrés Vicente Gómez, Oscar Winning Producer: On Award Winning Production
Alaa Karkoti,Co-founder & Managing Partner of MAD Solutions; Co-founder of Arab Cinema Center: On Award Winning Distribution
Ahmed Magdy, Actor, Filmmaker and Producer: On Award Winning Acting
James Hughes, Writer / Producer / Director / CEO of Sunset Aperture
About the Panelists: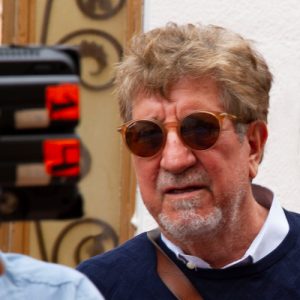 ANDRÉS VICENTE GÓMEZ, PRODUCER
One of Spain's most prolific and Europe's most highly regarded producers, winner of an Oscar for 'Belle Époque'. His films have won awards at Venice, Berlin, Montreal and San Sebastian Film Festivals, and his annual presence at the Goyas -Spain's Academy Awards-, makes him the Spanish producer with the most national and international awards.
He has produced over 100 feature films among them several of Spain's top grossing films. As a distributor he has been bringing to Spanish audiences an eclectic selection of international cinema from classic directors and numerous auteur masters.
In addition to his extensive work as producer and distributor, Andrés Vicente Gómez is President of the Media Business School, a prestigious development and training center of the European Union, founded in 1990.
n recognition for his work as one of the producers most contributing to cinema, in 1998 the Cannes Film Festival paid tribute to Gómez with a special homage. He is in possession of the honor of France's Cavalier de les Arts. In 2003, was chosen as President of the FIAPF, a post he held until 2008.
He has produced several TV programs in KSA. Last year his production: 'Born a King' based on King Faisal's journey to England at the age of 13 years old in 1919, hit the Saudi cinemas in 2019 to a massive audience success.
His last project, 'Champions', a comedy based in Jeddah has recently premiered in cinemas in March 2022.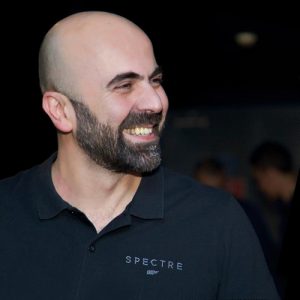 Alaa Karkouti renowned Film Analyst, CEO, and Co-founder of MAD Solutions and Co-founder of the Arab Cinema Center (ACC)
Alaa Karkouti is a renowned Film Analyst, CEO, and Co-founder of MAD Solutions and Co-founder of the Arab Cinema Center (ACC). He is an influential professional within the cinema and entertainment industry in the Arab world, known for his efforts in assembling complete statistical and analytical archives on the economics of filmmaking. Through MAD Solutions, Karkouti contributed to distributing Arab films ranging from long and short features to documentaries that have found their place on the international scene, including director Naji Abu Nowar's feature film Theeb, which was nominated for an Academy Award for Best Foreign-Language Film, and the Academy Award-nominated short film Ave Maria by director Basil Khalil.
In 2015, Karkouti launched the Arab Cinema Center (ACC) through MAD Solutions as an international promotional platform for Arab cinema as it provides the filmmaking industry with a professional window to connect with their counterparts from all over the world through a number of events that it organizes. The Arab Cinema Center's activities vary between film market main wings, introduction and networking sessions for Arab and foreign filmmakers, welcome parties, as well as meetings with international organizations and festivals, and the issuance of the Arab Cinema Magazine to be distributed at the leading international film festivals and markets.
As a Film Analyst, Karkouti has written about the Arab film industry in a number of renowned publications specializing in both cinema and economics, such as Forbes Middle East, Variety and Screen International among others.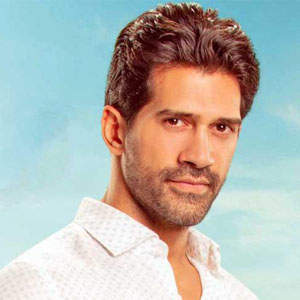 Ahmed Magdy Actor
Ahmed Magdy is a multi talented Egyptian artist, He is an actor, filmmaker, as well as a producer and the founder of Garage Art Production. A former UNFPA Champion, and the current Goodwill water ambassador of the European Union.
Ahmed has played many different, and notable roles. His most recent projects as an actor include: TV series "El Meshwar", for which he has received wide acclaim for his role as Lieutenant-Colonel Alaa. by director Mohamed Yassin, as well as "The Devil's Promise" by British director Colin Teague, now available on Shahid VOD, where he plays the devil's son.
As a director, Ahmed is known for many projects including: "The Girraffe" which landed its world premiere at the 40 th Cairo International Film Festival (CIFF). Written, directed, and filmed by Magdy, THE GIRAFFE received wide critical acclaim during its international premiere at the Marrakech International Film Festival, The film screened at many regional and international film festivals, including the Festival International du Film Transsaharien de Zagora in Morocco, Aswan International Women Film Festival, Cairo Cinema Days, Festival Cinémas du Sud in Lyon, France, Masr Dot Bokra Film Festival, Aarhus Arab Film Festival in Denmark, Dhaka International Film Festival in Bangladesh, and the Palestine Cinema Days. THE GIRAFFE was theatrically released in Egypt and the UAE.
As an actor, filmmaker, and producer, Ahmed was a speaker on multiple panels and in conversations with big entities like: Cairo Film Festival, Gouna Film Festival, Luxor Film festival, as well as other film festivals around the world. Ahmed has also been a jury member on many occasions, the most recent was in Luxor Film festival, the Diaspora Competition, with fellow jurors, director Rachid Mashharawi (Palestine), producer Doura Bouchoucha (Tunisia).
Ahmed Magdy is currently working on several projects as an actor, filmmaker, and producer.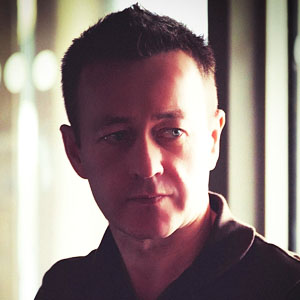 James Hughes Writer / Producer / Director / CEO of Sunset Aperture
James Hughes has directed hundreds of actors, including Emmy® Winners and BAFTA Winners.
His short films have screened at over 300 film festivals, including Oscar qualifying ones.
He has been a Speaker for BAFTA, the Screenwriting Expo in Los Angeles, and numerous film festivals.
His three feature film spec sales led him to The Writers Guild, where he later served on their Executive Council for six consecutive years.
He has now been selected by BAFTA for their new membership programme.
James is the CEO of the award-winning production company, Sunset Aperture, who have shot projects internationally, with teams on six continents that included Oscar Nominees. The company are now developing several feature films from their slate of projects.